Ipina is Delighting in Inviting You to Tea
7:00
En els meus inicis amb Pinterest vaig caure enamorada d'aquesta il·lustració de Claire Mojher, podeu veure la seva meravellosa feina clicant aquí.
Per mi, des del primer moment aquell dibuix era un brodat i així ho vaig tenir en ment fins a l'estiu passat, quan en petites estones vaig materialitzar la meva idea.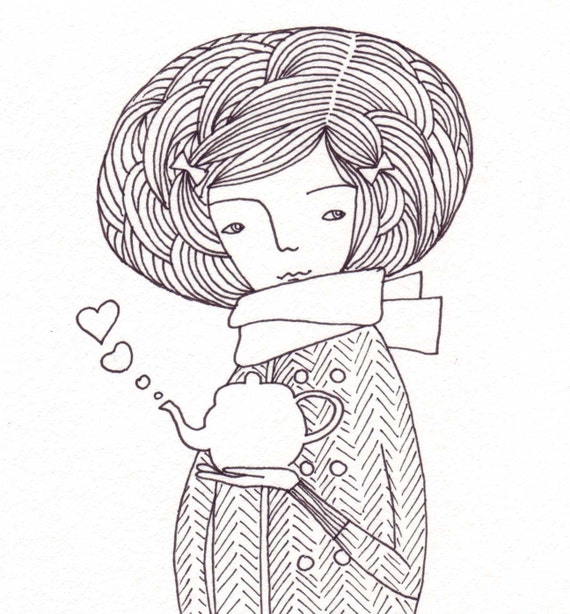 Ipina is Delighting in Inviting You to Tea
Claire Mojher
Un cop acabat, em vaig posar en contacte amb Claire per demanar-li permís per publicar la meva "adaptació al brodat" de la seva obra i va resultar ser una persona encantadora i molt atenta.
Aprofito per encoratjar-la a dissenyar patrons de brodat, jo ja estic temptada a transformar algun altre: Claire, la col·lecció Insects em crida!!
De moment aquesta imatge ja forma part de la meva habitació.
En mis principios en Pinterest me enamoré de esta ilustración de Claire Mojher, podéis ver su maravilloso trabajo
clicando aquí
.
Para mí, desde el primer momento aquel dibujo era un bordado y así lo tuve en mente hasta el verano pasado, cuando en pequeños momentos materialicé mi idea.
Una vez acabado, me puse en contacto con Claire para pedirle permiso para publicar mi "adaptación al bordado" de su obra y resultó ser una persona encantadora y muy atenta.
Aprovecho para animarla a diseñar patrones de bordado, yo ya estoy tentada a transformar algun otro dibujo: Claire, la colección Insects me llama!!
De momento Ipina ya forma parte de mi habitación.
In my early days in Pinterest I fall in love with this
illustration of
Claire Mojhe, you can see her wonderful work
here
.
Since I saw this drawing it was embroidery in my mind and finally last summer I made it spending my free time.
Once I was finished I got in touch with Claire to ask permission to publish my "embroidery version" of her work. She was very lovely and attentive.
I take this opportunity to encourage her to create some embroidery patterns also I'm already tempted to transform some other Claire drawings, her insects collection is calling me.
Meanwhile Ipina is already part of my room.